We'll soon have lots of free articles to share with you, so please check back shortly. In the meantime, you can join our mailing list and receive current monthly leadership articles directly by email or request a copy of our free negotiating e-book.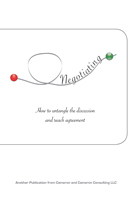 Request a free copy of our e-book
"Negotiating: How to untangle the discussion and reach agreement"